OUR ROTOGRAUVRE PRINTING SERVICE: LABORATORY ANALYSIS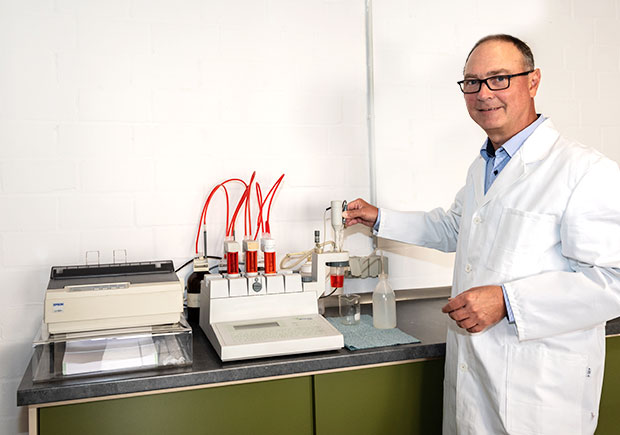 In our in-house laboratory that is equipped with state to the art analyzing equipment, we offer analysis of electrolytes of galvanic bathes (copper or chrome electrolytes) as well as waste water.
We look forward to making you an offer. The following lists will give you a general overview of the various analysis parameters:
Copper bath electrolytes
Art.-No.: A03-0144
Copper sulphate
Sulfuric acid
Chloride
Iron
Titanium
Chrome bath electrolyte
(Art.-No.: A03-0181)
Chromic acid
Chrome3+ resp. Chrome-III-oxide
Sulphate
catalyst C
density or Bath weight
Iron
Copper
TCC
Conductivity
Surface tension
Waste water analysis
Art.-No.: A03-0123
pH-value
Conductivity
AOX content
Settleable substances
Sulphate
Copper
Nickel
Chrome total
Iron
Silver
Additionally, we offer hardness measurements, microscopical examination, etc.
We offer you our support to finding a solution for your problems with regards to pre-press or printing, so that your production procedure will run safely and under optimal conditions.
SERVICE FOR MEASURING INSTRUMENTS
Our specialists for measuring equipment will repair and calibrate your device. Upon request we will train your staff on site. Please contact us for test measurements or if you require rental devices.
FACILITATING JOINT-VENTURES/INTERNATIONAL COOPERATIONS
Due to the international activities of our company we have already acted as an intermediary for multiple cooperation of companies which we also accompanied in their early stages.
As we enjoy a high reputation worldwide we can assure all relevant and necessary contacts and presence to mediate and implement the desired cooperation.